Meet some of our people! #BETEAM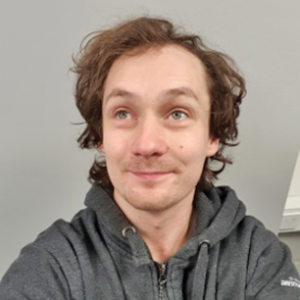 Hi Andreas, what is your day-to-day work at Arvato like?
It's all about solving data problems and discovering the unknown potential in the data to create profit and automated tasks. So it really challenges my technical creativity, and I get to explore my knowledge which I feel has the potential to always increase at Arvato.
What would you say makes your job special?
For me personally it's important that I'm not expected to just work as some sort of a mindless algorithm. I want to be encouraged to keep expanding my knowledge and apply cutting edge technology to things. At Arvato I feel that you get the freedom to work independently and be flexible when it comes to developing yourself.
I know you have worked at Arvato for about six months now, how was it to start a new job during a pandemic?
You'd think it would be very sad but I could really feel the social presence even though we mostly worked remotely. It was different, but it wasn't bad and I don't see how I could have had a better introduction and onboarding program than the one I actually had.
What is your educational background?
I went to a five-year Master of Science program within applied physics and mathematics with a specialization in machine learning and statistics. I worked as a consultant for a year before I started at Arvato.
So, what would you tell a person who is interested in working at Arvato Financial Solution?
Arvato has so much data which means so much potential, and there are so many new challenges that I hadn't even considered in the academic world. When you combine uncharted territory with this potential, it keeps the work interesting and challenges our technical creativity everyday. When we succeed in our work with advanced analytics and data, everyone succeeds in a way. So, we're kind of cheered on all the way from the beginning to the end, which I really like.
What can you say about your team?
We get to solve problems in every step of the way. It ranges from everything from hardcore theoretical challenges that I've never encountered before to the very practical, such as how to make an infrastructure for this very specific potential model. The teamwork is vast and does not only exist internally in our team, but we get support from the entire company, which is really exciting.
And what about your own role?
It is everything I want out of a data science position, especially with my background. It is important that you are diverse and interested in learning different aspects. Even if I'm very focused on the theoretical part, it doesn't mean that my position is only about that. It is also about building infrastructures for collecting data and understanding it. I get a really good look into what finance today is and get to expand my area of expertise
What has your most valuable experience working with Arvato so far?
I don't think I've had my most valuable experience yet. I've learned so much every day. So I think I can't point out like a specific experience because it's a continuous process.
How would you describe the culture and working environment?
Within our team we have very free information flow and I feel that I'm being listened to and what I say is taken seriously. We complete each other and overlap in many good ways. It's definitely a good working environment and Arvato feels like a very solid employer.
Do you have Questions? Please contact us!