Learn more about your members through Advanced Analytics
The Credit Union Member Lifecycle
Is your Credit Union optimizing their Member Lifecycle?
We envision the Member Lifecyle to be a frictionless experience, allowing Credit Unions the real-time engagement needed to solve the biggest challenges you face during each stage.
The Credit Union Member Lifecycle
By creating a holistic view of each member, you can take control of your data by embracing some of the latest innovations in technology, such as Advanced Analytics and Behavioral Biometrics, to turn your data into a competitive advantage. Enable your Credit Union to work faster and smarter by leveraging our predictive models and intuitive dashboards to better forecast member behavior and make better informed decisions.
Take your Credit Union's data from insight-to-action in minutes by simplifying your analytics workflow and discover the benefits of making more intelligent, data-driven decisions.

Executive Dashboard Suite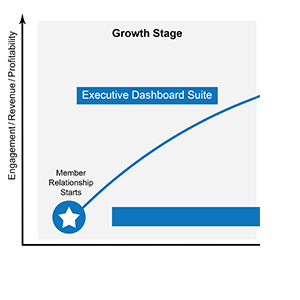 As you start to build relationships with new members, you should strive to make more data-driven decisions. By creating visibility into each member's credit performance and participation activity, you can gain the insight necessary to better evaluate and identify opportunities for increased sales and services.
We've developed dynamic algorithms which utilize machine learning to analyze your Credit Union's data and establish member profiles based on their unique characteristics. This allows you to better identify and target your most profitable members and develop participation models to identify those in the market for new products and programs.
Create personalized recommendations for each member and provide your team with the proper outreach channel to help grow their portfolio.
Member Default Alert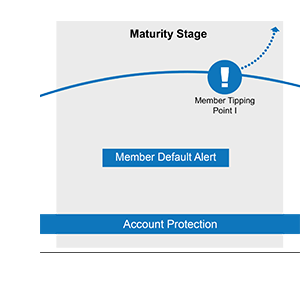 We believe that every member is, or has the potential to be, a great member. The only problem is that issues can often occur before you were able to identify them.
Stay ahead of these situations by leveraging the power of your data with Advanced Analytics. Gain the ability to identify and remedy troubled member relationships before they deteriorate, predict delinquency and charge-off trends, and improve performance ratios by leveraging our predictive models that can:
Discover root causes and drivers for upcoming delinquencies and charge-offs
Identify member disengagement
Predict members at risk of becoming delinquent
Reduce member churn
Avoid member relationships deteriorating and mitigate risk by utilizing Advanced Analytics. We will deliver the insights you need to recover the situation and retain your member.
Intelligent Collection Worklist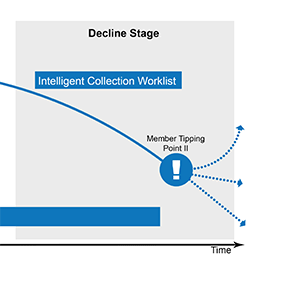 When a member voluntarily, or involuntarily, disengages from your Credit Union, you want to ensure that you have the right information to properly manage the situation. Having a holistic view of your member is crucial in these situations, as creating a tailored approach to collection allows you to manage this process with sensitivity, effectiveness, and the necessary personal touch.
Through Advanced Analytics you can explore your member's tendencies and analyze characteristics of previous collection cases to better identify reasons for default. Determine and investigate variances in collection performance and monitor success by collection method.
Easily prioritize collection cases based on probability to collect, and determine the proper timing, message, and channel that are most likely to be answered by individual members.
By utilizing our Collection Analytics, you provide yourself with the tools needed to create data-driven decision to not just personalize and improve each member's experience, but to also increase their profitability and improve your recovery rates.
Need more information? Contact us today!