Our modular accounting & billing system is the backbone of your mobility business
Mobility Clearing Service
All-round service package from bookings to payments
Our mission: simple finance and data management for mobility providers
The product manager
does not just want to be a "human/system interface" for managing data, but also wants to be able to interact with other departments such as marketing, service, sales and finance in order to create interesting offers. To do this, they need a user-friendly system that simplifies workflow management for products and prices.

The financial accountant
expects a one-stop-shop solution that provides all the important KPIs quickly and clearly. This also includes straightforward data exporting. In addition, they need to be able to ensure that the invoicing processes are correct and compliant.

The end customer
does not want to wait too long before they can use the shared mobility service. They expect smooth registration, fast booking and simple, digital payment transactions.
Our integrated solution: Mobility Clearing Service
With the Mobility Clearing Service, we offer our clients and their customers an all-round service package from bookings to payments. It is based on a scalable technology platform that manages all processes from customer management to payment transactions. It integrates our functionalities such as payment gateways, accounting, subscription management, risk management and agile dunning and collection services. The service can be easily integrated into existing business ecosystems – regardless of whether you are a car manufacturer, car dealer, car rental company or car sharing provider.
Your benefits

One single platform
We integrate the entire customer accounting flow into a single platform. You can offer your customers more than 300 payment methods worldwide and adjust individual pricing or create new offers at any time.

Less effort
With customer-friendly dunning processes, you minimize bad debt losses, reactivate customer relationships and avoid customer churn.

Less risk
You optimize the acceptance rate and reduce fraud and chargebacks.
Our integrated service portfolio from billing to collection
Customers who use a car-sharing service go through three phases: registration, car selection and payment. Numerous processes run in the background. These include data collection, credit risk checks, fraud detection, data analysis and much more. We take care of all this for you with our Mobility Financial Clearing Service solution.
No business without a payment system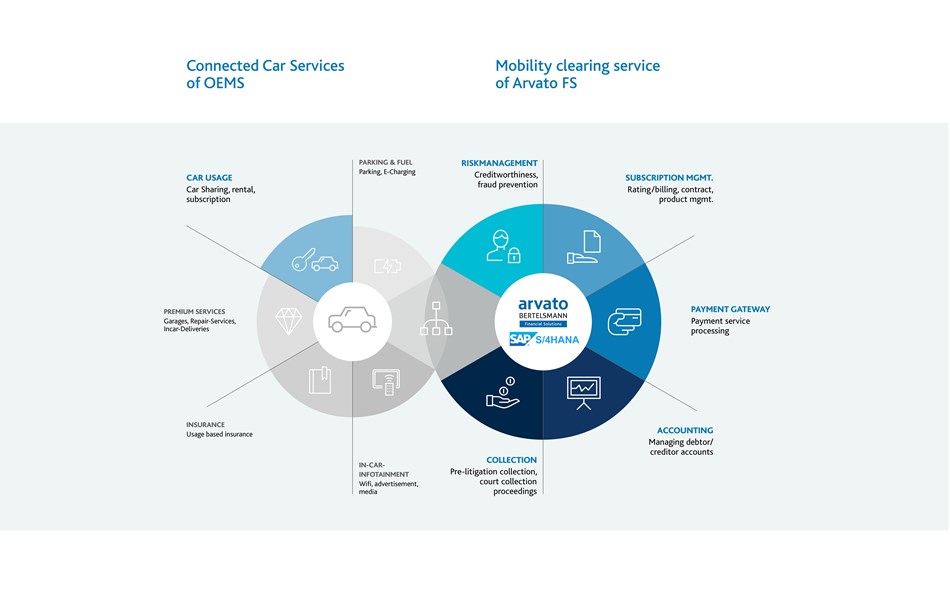 How it works
Anyone wishing to rent a car-sharing vehicle first registers via an app.
Registration already starts comprehensive subscription management: User data is registered, a contract is drawn up and a billing cycle is created. If the end customer wants to rent a vehicle, vehicle location and booking data are collected.
After the trip, the system transmits the kilometers driven, the new location and other usage data from the car to the fleet management system.
This is when the payment service process begins. The software compares data with price lists and creates digital invoices.
If the user does not pay and payment problems occur, payment reminders, debt collection and finally debt collection procedures are automatically activated.
Product Sheet Mobility Clearing Services