Fraud Prevention Workshop
Gain valuable insights on how professional fraud management can improve security and the customer journey.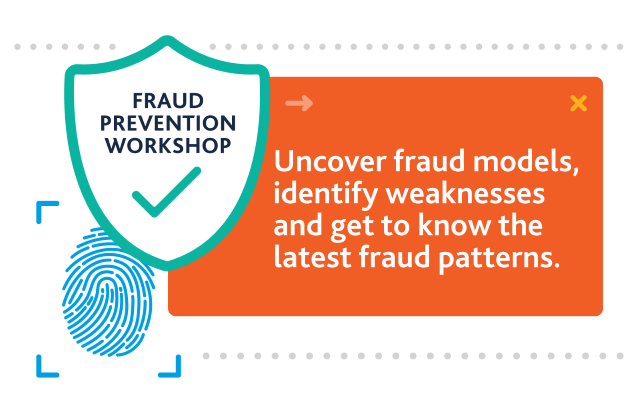 Our fraud prevention workshop helps companies find the right balance between high security standards and an ideal customer journey. We identify the fraud models relevant to you and examine the weaknesses in your existing fraud setup.
We work with you to determine valuable action recommendations to actively counter fraudsters and enable your loyal customers to enjoy a seamless customer experience. Our expertise encompasses best practices, industry-specific fraud models and the latest on fraudsters' newest tricks.
Our approach to determining fraud health and suitable preventive measures

Initial consultation
We'll call you after receiving your inquiry to perform a brief initial analysis, identify the right stakeholders and arrange a date. This way, we can fully adapt to your needs.

Workshop
Our risk and fraud experts will run an interactive workshop (over 3 hours) that explores your specific challenges in combatting fraudsters. We also offer Skype calls as an alternative to a live session.

Action recommendations
You'll then receive actionable solution steps to help you overcome your fraud cases even more effectively. Using the results from the workshop, you'll be able to initiate the right measures straight away.

Knowledge and expertise
After the workshop, you'll have an ever clearer understanding of your fraud KPIs, you'll know the subtle differences between types of fraud and be even more aware of the typical fraud models in your industry. All this will help you further optimize your fraud setup.

Improved customer journey
The measures derived will have a positive effect on chargebacks, costs in reviewing manual orders, false positives and your revenues. Fraud prevention enhances the customer journey for your loyal customers – as you can keep their security hurdles low.
"The fraud prevention workshop gave us new insights and perspectives on the topic. Our needs and concerns were taken on board and potential solutions were suggested in some areas. In particular, the comprehensive situation analysis that we conducted together in the workshop is helping us better concentrate on our goals."

Antonio Vicente Molina
Accounting & Payment Department Head, real.digital

real.digital