Claims service provider 3C receives established industry award
Erfurt / Heilbronn, 31 July 2019 - The claims management experts at 3C from Arvato Financial Solutions have received an award for their outstanding service quality.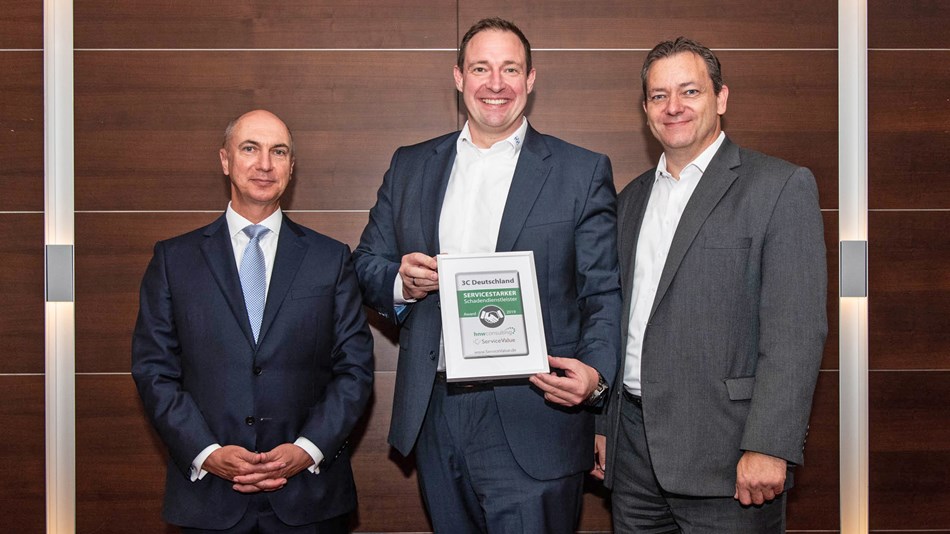 Claim expenses represent the largest part of the expenditure of insurance companies. It is therefore crucial for insurers to be able to rely on the service quality of the various claims service providers in the event of a damage claim. Settlement not only has a significant impact on costs, but also on customer satisfaction.
In order to assess the quality of the numerous companies in the German industry, the analysis company ServiceValue, together with the industry experts at hnw Consulting, conducts an annual service rating for claims service providers. For the first time this year, 3C Deutschland GmbH also took part in the comprehensive evaluation process - and was delighted to receive the award as a service-oriented claims service provider in 2019. "We are proud to have received the award for our customer-centric products at the very first attempt," said Rainer Stürmer, Head of Sales at 3C.
The analysis highlights a number of parameters that can be used to measure service quality. The most important criterion is the so-called partner value, in which the benefit of the company for the insurers is evaluated along dimensions such as integration capability of the solution, contribution to sales success, added value generation, degree of specialisation and supply of information. The Bertelsmann subsidiary scores above-average in this respect. It was no easy task to receive one of the coveted awards, as Jürgen Wulf, Managing Director of hnw consulting, knows: "Complying with growing legal, regulatory, procedural and qualitative requirements as well as serving, recognizing and exploiting further opportunities from new technologies for additional support of service quality remains a permanent challenge for insurers and claims service providers".
That is why 3C Deutschland GmbH and Rainer Stürmer will continue to develop products and processes in the future and focus them entirely on the needs of customers and their end consumers: "We already have efficient solutions in use that have been generating enormous added value for our customers for years. In addition, we have developed further innovative ideas that will help our customers to distinguish even more clearly between the various groups of policyholders and claimants in order to be able to offer them tailor-made solutions," says Stürmer. We benefit in particular from the expertise of our colleagues at Arvato Financial Solutions as data and analysis experts when it comes to integrating end customers into digital processes.