Credit Risk Management
Where everyone else sees risk, we see potential – potential for smart decisions that generate financial success
We navigate you through the complexity of financial processes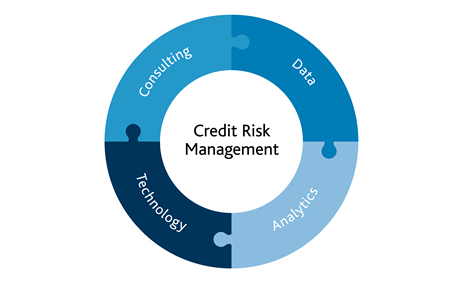 Information and data are the basis of every business decision. Analysing and interpreting raw data with sophisticated techniques and highly selective decision models helps assessing opportunities and risks. In Credit Risk Management, this means distinguishing high-potential customers from non-solvent customers and identifying new opportunities.
These insights enable companies to take appropriate action, improve overall performance, and gain a real competitive advantage. This process ranges from identity verification to customer credit checks and analysis of huge amounts of data available in finance departments.
Big data and advanced analytics hold enormous potential for more successful and efficient credit risk decisions. In order to be able to make such decisions, our consulting experts assist your risk management holistically. Our philosophy is based on four success factors in order to achieve the best possible result for you: analysis, data collection & data management, credit management, consultancy and technology. We stand for the fusion of of technological, analytical, legal and interpersonal intelligence.
Integrated credit risk-, fraud- and identity management
Every day you make decisions that impact the success of your business, be it on closing contracts or potential clients applying for loans. Through our services our trusted experts support our customers in the credit decision-making process, including ID and Fraud Management. We make credit risks calculable, hidden relationships visible and processes more efficient. With Arvato Financial Solutions' integrated Credit Risk Management you focus on your core business while we navigate you safely through the complexity of financial processes.

Identifying high-value customers
The targeted further development of high-potential customers enables you to maximise your business success.

Reducing payment defaults
A credit report enables you to make better business decisions by recognising problematic customers already when registering new customers and, as a result, helps you increase liquidity.

Optimising financial processes
By perfecting workflows along the entire customer journey through big data analytics and successfully implementing predictive models of default probabilities and many other risks, you'll be the winner of the digital transformation.
Our solutions
Our customers benefit from the unique combination of our in-depth experience in financial processes and our extensive expertise in big data analytics. Our extensive industry knowledge in the areas of e-commerce, telecommunications, utilities, banking and digital business will help you make better decisions. We are able to provide tailored and highly integrated solutions for more accurate decision-making across the entire financial process chain. We consistently pursue a holistic approach to Credit Risk Management - not just as a credit rating agency, but also as a strategic partner on the same level in terms of credit risk for our clients.