Credit Check
Check the credit rating of your customers and improve the quality of your customer relationships.
What is a Credit Check?
Your business success is determined to a great degree by the quality of your customer relationships. The ability to recognise both risky and promising customers and design business relationships accordingly is essential for optimising your business results. Credit checks give you a holistic assessment of the solvency and creditworthiness of customers based on comprehensive data, from personal data to bank details, whether your customers are potential buyers, tenants or apply for a mortgage or loan. A credit check is therefore the basis for deciding which customer relationships should be developed and on which terms and conditions.
What are the advantages of a Credit Check?
Reduce payment defaults
in your transactions - from online buying to lending.

Protect risky payment methods
Offer your customers popular payment methods such as purchase on account, SEPA direct debit and instalment payments.
Optimise your business success
through the best possible distinction between high-potential and high-risk customers.
Our Credit Check solutions
Modular and flexible
Which credit information is required and at what depth and in which combination will significantly depend on your business model. We provide you with individualised solutions for credit checks that suit your business and your requirements, from a simple credit check to credit scores and even individual scorecard development.
Previous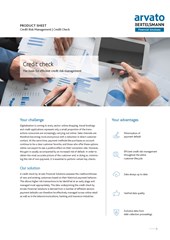 Identify payment dispruptions early - minimize payment default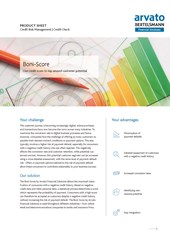 Our credit score to tap unused customer potential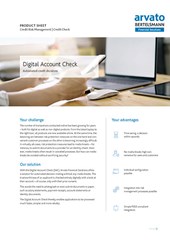 Accelerate and simplify digital processes
such as loan applications.
Download our Product Sheet to discover
how our solution Digital Account Check can help you.
Next