Credit check and credit scores
Credit Check and Credit Scores
Credit check assessment for protecting against payment default
Creditworthiness refers to an evaluation of customer solvency in various phases of the customer lifecycle. Besides the areas of identity and fraud, it plays a central role within integrated risk management when assessing payment default risks. The credit check of your customers is essential when making decisions on initiating business relationships and on how to regulate them. The results of a credit report check will drive your company's decision-making on how to manage payment methods in e-commerce to lending by banks as well as contracts offered by insurance or telecommunications companies.
A credit check involves determining whether the customer data match any entries in a database containing past payment defaults – or negative credit events. However, this is only the case for a limited group of people.
To also appropriately assess the creditworthiness of people without negative credit events, effective credit scores are used. These are much more selective than negative credit events alone. For this reason, they not only facilitate better forecasts of the payment default risk, they also enable finer control in balancing revenue maximization with minimizing payment defaults.
For credit scores, a statistical process determines a score based on the negative credit events that may exist as well as additional personal data. This score represents the payment probability and can be combined with a risk ratio to calculate whether a consumer will meet their payment obligations. This enables you to manage the risk associated with your customer portfolio and thereby further expand valuable customer segments with good creditworthiness.
Companies can use this scoring system to decide how the business relationship with a customer should be arranged. For instance, whether a customer in online retail is offered purchase on account as a payment option depending on their creditworthiness, or the terms at which a borrower with a certain score should receive a bank loan.

Arvato Financial Solutions has access to an exclusive database containing the negative credit events of around 7.8 million people in Germany. This database includes insolvency events as well as judicial and extrajudicial dunning procedures. Our credit checks utilize this database and allow you to identify potential payment delinquencies in good time.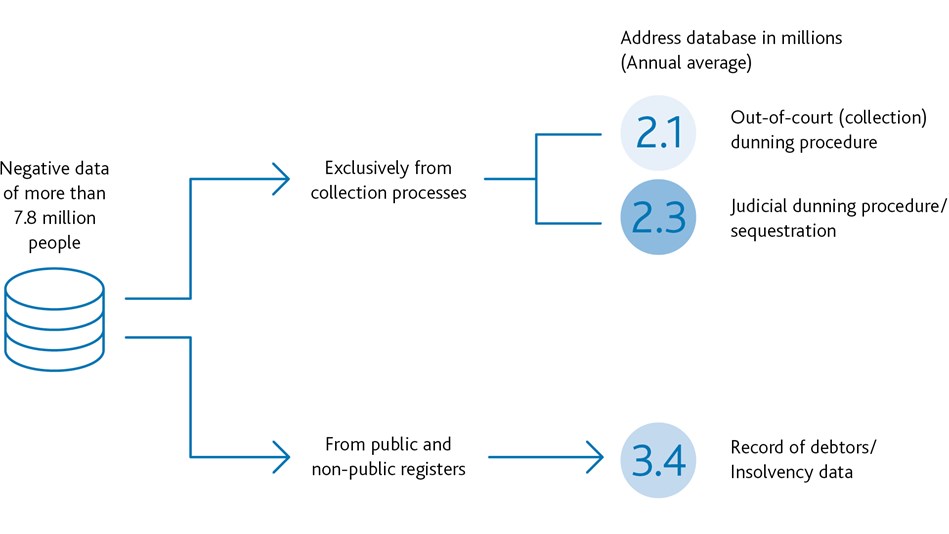 By including additional data, our credit scores offer the ability for individual, risk-dependent fine tuning in the classification of customers and in decisions concerning the arrangement of business processes. Arvato Financial Solutions also offers industry-specific scores that make particularly accurate assessments possible.
Your benefits

Exclusive data inventory
With judicial, extrajudicial and pretrial attributes

Industry-specific credit scores
For e-commerce, telecommunication, bank and insurance

Increasing the conversion rate
And the acceptance rate with risk-appropriate management
Reducing bad debt losses
By identifying potential payment defaults early and enabling the appropriate management of payment methods depending on creditworthiness
Technical Integration
Credit checks and credit scores by Arvato Financial Solutions are easily integrated into client systems. A range of interfaces are available which meet established market standards and make technical integration quick and easy.
Our credit scores are not only available as a stand-alone solution. They can also be adjusted to the specific industry or client for a handy integration into your systems. Our consulting exports will be happy to assist you in this process.