Address Verification of the Future
Reliable consumer credit checking is indispensable for many industries such as e-commerce or telecommunications. Customers want to use the payment methods they prefer, such as open invoice, but a business only wants to offer this if the risk of a payment default or delivery return is not too high. In order to assess this risk optimally, the user's details must be verified. This also includes the digital verification of the address provided by the consumer. In this case, the relevant address is checked against the database of a service provider. The result of the verification process will inform the shop operator via our API whether the person or household in question are known at the given address. To guarantee a seamless customer journey, the address verification solution runs quickly, simply, without any media break and without additional effort to the consumer - very much in line with ensuring an optimal conversion rate for a shop operator.

In order to meet the different needs of various clients and industries, Arvato Financial Solutions offers several address verification products, ranging from the base product to the premium product Digital Identity Check.
Digital Identity Check: address verification by Arvato Financial Solutions
Up-to-date underlying data in excellent quantity and quality is crucial to ensure the quality of an address verification. Digital Identity Check – a joint product between Arvato Financial Solutions and Deutsche Post Direkt – delivers a particularly high confirmation rate. It is not only based on the best data sets on the market, but it also combines these with an intelligent logic. Doing so, the best possible assessment can be made even if data sources provide different results. The resulting confirmations of households and persons at the stated addresses including country, state, city, street, house number, zip code, phone numbers, email addresses and any additional data available have a very high level of accuracy. Digital Identity Check delivers results in the form of an abbreviation that is easy to understand, which also provides other information in addition to the confirmation such as notes on relocations or vacant sites. This further minimizes the risk of a payment default. The result of the verification is delivered in real-time as all the available data sources are retrieved in parallel through an instant lookup and match process. Typos in the address or name are recognized and corrected by the algorithms during the verification process.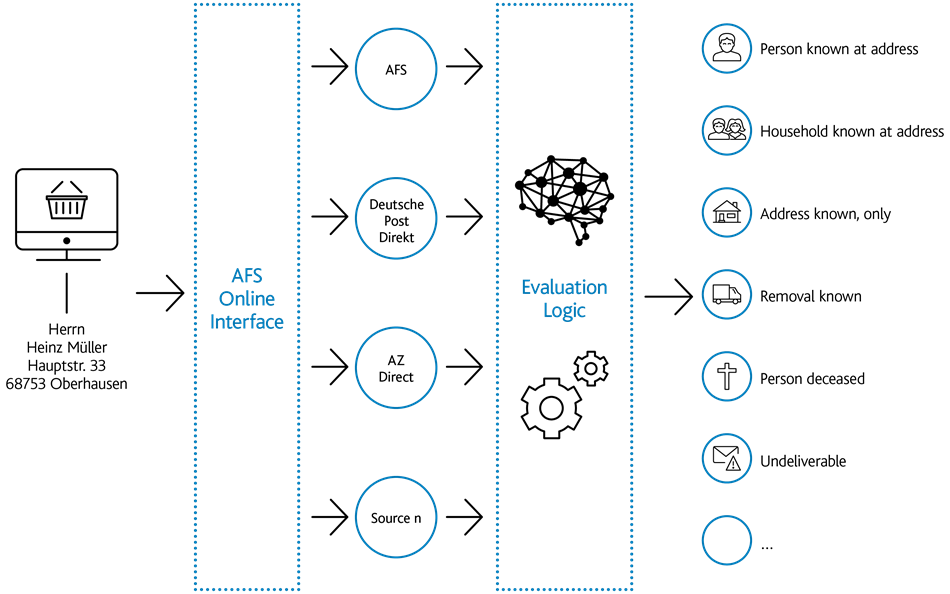 Benefits

Intelligent multi-sourcing
Particularly high confirmation rate with unique combination of the best data sources on the market

Valuable additional information
In addition to person, address and household confirmations, information on other data such as relocation, death or undeliverability

Permanent updating of data base
Continuously new signs of life through the use of more than 20 million data points a month
Technical integration
In order to guarantee fast address verification, to run all inspection processes in the background and to make the customer journey as seamless as possible, Digital Identity Check is easily integrated into your system. There are various interfaces available for this purpose.

In addition to the integration as a single solution, Digital Identity Check can also be integrated as part of an industry- or customer-specific company solution by Arvato Financial Solutions.