Digital Account Check - Automated Credit Decisions
About Digital Account Check
Simple and direct, from loan application to conclusion

The German financial sector receives almost 25 million loan applications each year, and yet automation remains in its infancy. Digital Account Check is an automated credit decisioning solution free of any media interruption. It delivers a fast and seamless credit decision process from application to decision. Digital Account Check is a customized and completely digital solution that uses a loan applicant's online banking account to verify their credit standing. For banks, this removes the need for the cumbersome and costly process of manually reviewing and checking application documents for consumer financing. For applicants, it maximizes convenience and allows them to benefit from a fast credit decision. The automated credit decision delivered by Digital Account Check is the missing component for realizing a completely digital loan application process.
Application Opportunities for Digital Account Check
Customized solution for accelerated credit decisions and increased customer satisfaction
Digital Account Check comprises three product modules that provide diverse solutions for personal identification, data comparisons using digital account statements, and score-based interpretations.
For the banking sector, Digital Account Check flexibly integrates into the lending bank's loan application process and can be used both during loan appointments in the branch as well as in the online loan application process on the website. Customers log in to their online banking account and authorize the real-time reading of their account information. Our algorithms then carry out a comprehensive account analysis.
The current problem of long waiting times resulting from media break in the application and credit decision process has been fully resolved by the completely digital and real-time check of customer data. At the same time, not only does it comply with all data protection requirements and legal requirements (PSD2 compliance), it significantly alleviates the process of evaluating the credit standing of potential borrowers and delivers a reliable score for loan decisions. Moreover, the secure verification of customers logging in provides effective protection against fraud.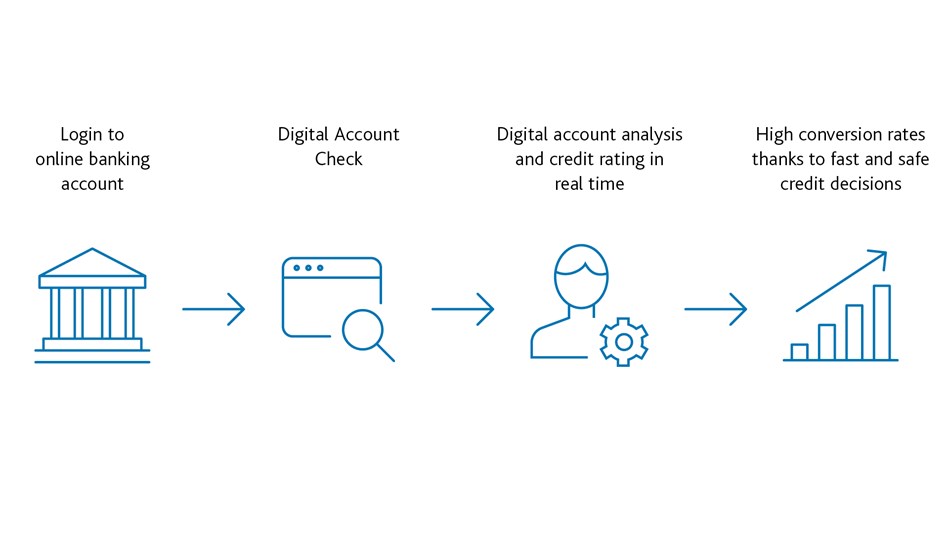 Benefits for Lending Banks

Safe real-time decisioning
• Comprehensive assessments of credit standing
• Reliable data for qualified risk assessments
• Protection against fraud


Increased conversion rates
• No media break
• Seamless transferral of loan-relevant data
• Fast credit decisions with our algorithms


Reduced processing costs
• No cumbersome manual checks
• No digitalization of application documents

Benefits for Applicants

Fast credit decision
• Quickly realizes consumer demands
• Minimal waiting time for borrowers


Maximum convenience
• No inconvenient document submissions
• Fast application from home


Verified data security
• Sensitive consumer data processed confidentially
• TÜV certified security

Technical Integration
The technical foundation of Digital Account Check is Access to Account (XS2A), which is compliant with current payment services regulations (PSD2) and which provides an interface for accessing customer account information by third-party providers. This allows Digital Account Check to carry out comprehensive account information analyses and deliver automated credit decisions.
Digital Account Check - explained the easy way
A solution developed in cooperation with: