GENERATE MORE REVENUE AS A DIGITAL MARKETPLACE
AQOUNT O2C Marketplace Bundle
What challenges do I face as an online marketplace?
Shopping via online marketplaces is one thing above all: convenient. With just one single order, consumers can buy from different merchants - from both the marketplace operator and the merchants affiliated to it.
Behind the scenes, you provide a seamless shopping experience and enable merchants to sell physical or digital products that you don't have to offer and stock yourself. However, you deliver the sales platform and also manage the financial flows that are processed through your platform.
Things get complicated when you have to manage someone else's money


As a marketplace, you manage the revenues of the individual merchants on a fiduciary basis, in contrast to a conventional web store. After a successful transaction, you have to pay out money to several merchants and make the so-called payment split.
To be allowed to execute these operations, you have to let every merchant you allow to use your platform go through a Know your Customer check. This legitimation check is mandatory to prevent money laundering activities. It is also important to be aware that you are managing someone else's money. This includes activities that are typically performed by banks, and you will be strictly monitored by BaFin.
In which way does an AQOUNT O2C Bundle support me?
Using AQOUNT O2C Marketplace, you can offer marketplace schemes in a compliant manner. The main focus is on the processing of the money flows from the end customer to you (accounts receivable management), the correct allocation and splitting of the amounts between you and the respective merchants (split payments) as well as the related payment (accounts payable management).
Your fees will be calculated and retained for you as part of this process. Therefore we hold the necessary ZAG license from BaFin (licensed according to the Zahlungsdiensteaufsichtsgesetz). We are authorized to take over these activities for you following the highest requirements of security and compliance.
Which services does AQOUNT O2C Marketplace include?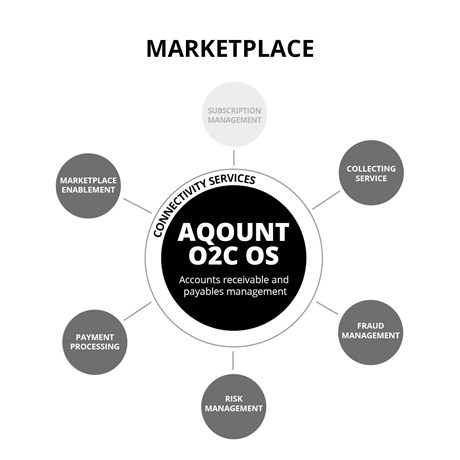 We would like to support you in implementing all process steps of the order-to-cash chain quickly and integrating them into your own IT landscape. Therefore, we provide all the necessary services that you otherwise would have to connect or develop individually in a lot of time consuming steps:
Risk Management

Fraud management

Payment processing

Collecting service

Marketplace Enablement
How can we support you?
Send us your questions and requirements and let's get started together.
I would like to know more AQOUNT O2C bundles:
Learn more about our Ready-to-Go bundles for different business models here: