Smooth accounting of recurring sales
AQOUNT O2C Subscription Bundle
Which aspects should I pay attention to when using a subscription model?
The demand for subscription-paid products and services is on the rise. This affects almost all areas of life, whether mobility, consumer goods or consumption of media. This opens up new opportunities for you as a store or provider: you can tap into new customer groups that make purchases from you in a predictable way and frequently over a longer period of time. Customer relationships are intensified. Insights gained about customer behavior can be used to optimize your sales process and even the product itself.
To ensure that customers remain customers, processes must run automatically and without errors.
If you want to use the subscription model for you products, you should pay extra attention to billing of the services. Flexible contract management with multiple terms and payment frequencies, promotions, as well as billing and rating make the order-to-cash chain complex.
In which way does an AQOUNT O2C Bundle support me?
AQOUNT O2C Subscription enables you to offer subscription models within your webshop. On your behalf, we take care of the management of contractual relationships, product and pricing design, payment processing and the entire accounting process - both domestically and internationally.

AQOUNT O2C Subscription takes care of contract management on your behalf - regardless of whether you have different terms, flexible payment conditions and payment methods, offer promotional campaigns or you need other billing models in combination with the subscription.
Which services does AQOUNT O2C Subscription include?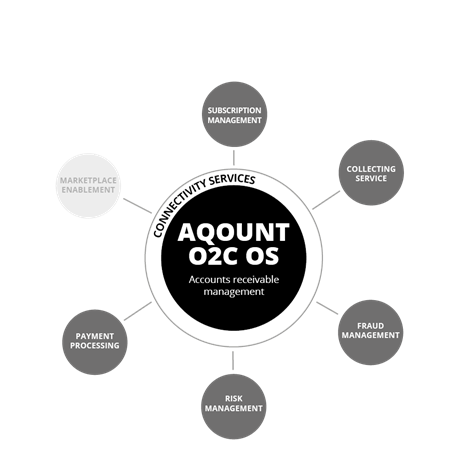 We would like to make it easier for you to setup the essential services of the order-to-cash chain for your business model quickly and to integrate them into your own IT landscape. Based on our experience, this is the key issue that can slow down the agility of your business idea. We therefore provide all the necessary services that you would need to connect or develop individually in complicated steps:
Risk Management

Fraud Management

Payment Processing

Collecting Service
How can we support you?
Send us your questions and requirements and let's get started together.
I would like to know more AQOUNT O2C bundles:
Learn more about our Ready-to-Go bundles for different business models here: