DIGITAL BUSINESS PROCESSES FOR ONLINE COMMERCE
AQOUNT O2C Webshop Bundle
What challenges do I face as a webshop merchant?
Consumers enjoy the freedom of shopping online anywhere and at any time. More and more companies are therefore adding online sales channels alongside their retail shops. An online store is also easier to implement than opening a store. So maybe you're at the point of digitizing your store-based business? Or your existing online business is growing rapidly? To ensure long-term success, it is important that your order-to-cash processes grow with you and can be rolled out internationally.
Increasing transaction volume pushes the accounting system to its limit.


Invoicing, payments and accounting should be processed as automatically as possible for sustainable growth. All incoming payments and credit notes must be booked, customer-friendly payment methods should be offered and integrated into the system. In case of late payments, it is crucial to find a balance between claim enforcement and maintaining a healthy customer relationship.
In which way does an AQOUNT O2C Bundle support me?
AQOUNT O2C Webshop combines all required services and offers interfaces to many providers which are necessary to run your webshop successfully. In order to reduce the time and effort of contract management, especially on an international level, our bundles already include contracts with selected providers. AQOUNT O2C Webshop gives you control over all transactions, as we handle the order-to-cash process, work in accordance with legal requirements and also provide you with access to the Local Payment Heros, for example.
Which services does AQOUNT O2C Webshop include?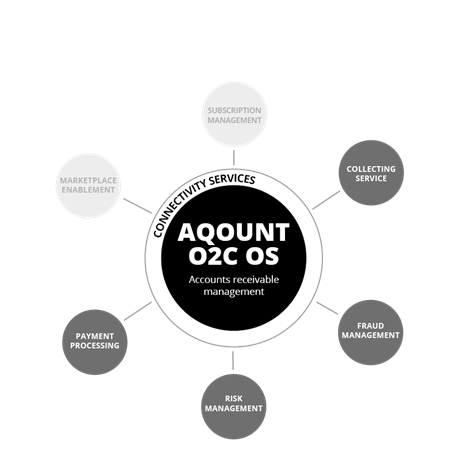 We would like to make it easier for you to setup the essential services of the order-to-cash chain for a web store quickly and to integrate them into your own IT landscape. Based on our experience, this is the key issue that can slow down the agility of your online store. We therefore provide all the necessary services that you would need to connect or develop individually in complicated steps:
Risk Management

Fraud Management

Payment Processing

Collecting Service
How can we support you?
Send us your questions and requirements and let's get started together.
I would like to know more AQOUNT O2C bundles:
Learn more about our Ready-to-Go bundles for different business models here: