June is Pride Month and is celebrated every year. During Pride Month, millions of people around the world demonstrate for the rights of the LGBTIQ+ community. It commemorates the "Stonewall Riots" in June 1969. In the morning hours of 28 June 1969, there was a police raid on the New York gay bar "Stonewall Inn", which was located on Christopher Street. At that time there were always violent police raids on bars with trans and homosexual target audiences. On that June night, however, drag queens, transsexuals and gay blacks in particular resisted these recurring police violence. Street battles with the New York police followed for days.
This marked the beginning of the queer movement. Throughout Pride Month, there is always a wide variety of events all over the world to remember and celebrate how society is: colourful and diverse. In German-speaking countries, it is still the "Christopher Street Day" or CSD for short. Worldwide, it is referred to as "Pride Parade" or "Gay Pride".
To commemorate and celebrate this Pride Month, we have coloured our logo in rainbow colours and display it in this way during Pride Month.
Our core values
Our Sense of Purpose
To Empower. To Create. To Inspire. Enabling, creating new things, inspiring - that's what we want to achieve with our work at Bertelsmann. This sense of corporate citizenship provides orientation for employees, managers and our customers and partners alike. It serves as a guideline for our work as an international media, service and education company, with which we help shape society.
Our Essentials
In an ever faster changing, increasingly digital world, the way we work and interact with each other is of utmost importance. Our core values & creativity entrepreneurship guide our daily activities. Through their interaction they reinforce each other and thus form the cornerstones of our corporate culture, which is based on participation and partnership.
Diversity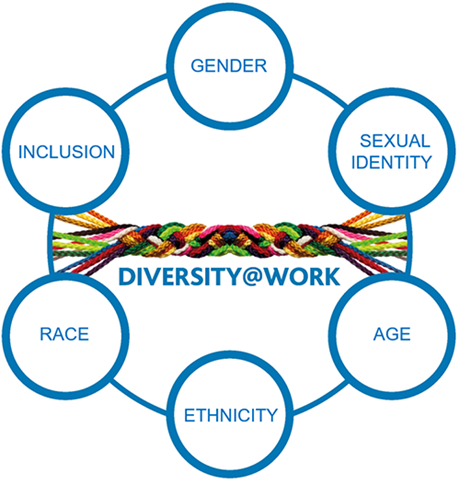 We, Arvato Financial Solutions, as a globally active financial services provider, want to be perceived internally and externally as a culturally diverse, modern, inclusive, socially responsible and therefore attractive employer.
Employee diversity is a requirement for innovation and the basis for sustainable corporate success.
As an international company, we advocate an open and tolerant corporate culture that promotes and demands respectful interaction between all employees.
We relate diversity in particular to the dimensions of race, ethnicity, generations, inclusion, gender and sexual identity.
Diversity Dimensions

Gender
Arvato Financial Solutions promotes and demands diversity and gender equality within the company.

Sexual identity
Our goal is to raise awareness of the diversity of sexual identities and to offer queer employees an appreciative, open working environment.

Generations
Sharing professional and life experience, forming cross-age teams and thus supporting and promoting the exchange between the generations.

Ethnicity
Even before entering professional life, we want to achieve equal opportunities, remove educational barriers and undertake social responsibility.

Race
The international working environment at Arvato Financial Solutions encourages different perspectives and a variety of ideas.

Inclusion
Our goal is to integrate people with disabilities, to see them as normality and opportunity.
Our employee networks
In our employee networks, everyone has the opportunity to exchange ideas with colleagues and participate in common actions. They offer the opportunity to get to know colleagues, network with them and share mutual interests.
AFS United be.queer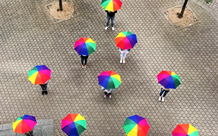 Be.queer is the first cross-divisional employee network at Bertelsmann to explicitly promote an open work environment for all employees - regardless of their sexual identity and orientation.
AFS International
The network brings together people from different cultural backgrounds and helps them to support each other and work together respectfully in a new, unfamiliar environment.
AFS United Inclusion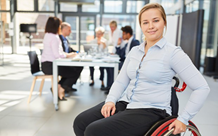 The network is a platform for exchanging information with each other and with each other and literally 'breaking down barriers in people's minds'. The goal is a faster and better integration into the daily work routine.
AFS United Generation
"Whether young, or old, what's important is cohesion!" - This is the motto under which the network unites employees of different age groups in everyday work and particularly strengthens the exchange of colleagues up to 25 and over 60 years of age.
AFS United Music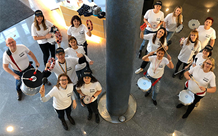 Diversity at Arvato Financial Solutions means being able to make good music in addition to achieving top performances together as a team. In a musical get-together, the diverse music group learns South American rhythms in samba style.
AFS United Football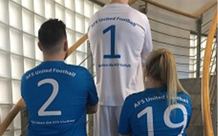 Diversity at Arvato Financial Solutions not only affects the working environment, quite the contrary. It also extends to leisure time. A specially founded diverse soccer team that is open to EVERYONE is the central anchor of the network.
AFS United Runners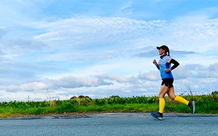 Running together is not only fun and motivating. It is also good for body and soul. That is why the AFS United Runners network calls on employees to participate. EVERYONE is welcome!
AFS United Women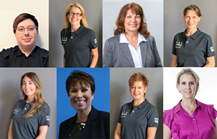 In the AFS United Women network, we would like to bring together women (and all those interested) who have to face the same everyday challenges, but no less important ones, and at the same time want to take on social responsibility. The focus is on mutual support.