Meet some of our people! #BETEAM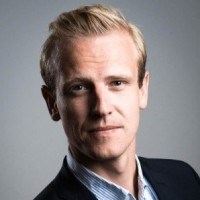 Petter Lunde - Head of Sales Norway

Petter Lunde started as a Key Account Manager at Arvato and is now Head of Sales in Norway. He has a history of working in the financial services and IT industry. Petters main focus is to work together with the Sales team to make sure they meet their growth targets through new sales.
Hi Petter, what is your day-to-day work at Arvato like?
It involves several tasks, but my main focus is to work hard together with the Sales team to make sure we meet our growth targets through new sales. I also try to make sure that we are developing our existing clients and support their growth.
What do you like about your job?
I'm lucky to work with a talented group of people, not only my own team but throughout the whole organization in the Nordics. We have high expectations of each other and the best part of being in this job is being challenged daily by the people I work with, and by our fantastic clients. Working in this industry with a clear tech minded focus is something I really appreciate. And I think that's also what differentiates us from our competitors.
What would you tell a person who is interested in Arvato Financial Solutions about the company?
At Arvato you can create your own career, with many opportunities both locally and internationally. If you want to move around, you can. If you want to specialize in a certain area where you are an expert in something, there's room for that.
What do you have to say about your team?
It goes for the entire company that it has extremely competent and experienced people with high knowledge.
What has been your most valuable experience at Arvato so far?
It's probably when we collectively won a large online fashion retailer in 11 different countries in Europe. Working together with the Scandinavian countries and making a very solid and competitive offer together.
Perfect, and how would you describe the culture and work in a working environment?
It's high paced and as I mentioned, full of skilled and motivated professionals. That often triggers very interesting dialogues within the teams and breaking down silos between departments. I also see a big change towards becoming a more sales driven organization, where all teams and departments want to contribute to our sales.
Do you have Questions? Please contact us!