"Nbdy is perfct" - Arvato Financial Solutions with special job advertisement for special applicants
Arvato Financial Solutions uses a special job advertisement to target applicants with reading, spelling or arithmetic problems. The international financial services provider works closely with the Bundesverband Legasthenie & Dyskalkulie e.V. (Federal Association of Dyslexia & Dyscalculia) to this end.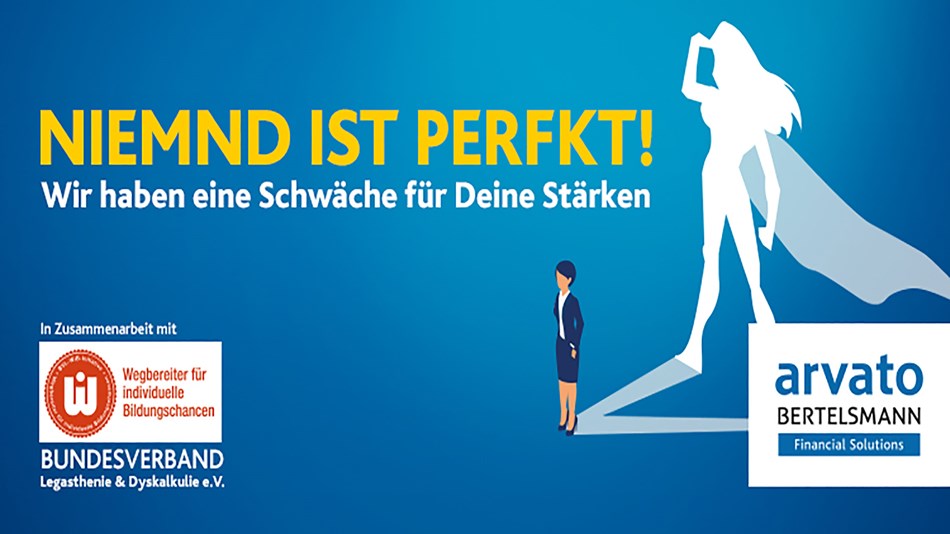 For Arvato Financial Solutions, the diversity of its employees is a prerequisite for sustainable corporate success. When recruiting new talent, the company also addresses different target groups time and again with a tailor-made approach: "It is important for us to pick up our target groups in their environment and respond to their individual needs. That's why we place ourselves in the channels they are familiar with and make it clear that we depend on the strengths of each individual," says Dr. Kai Burr, Chief Human Resources Officer.
Now the recruiting team is coming up with a very special job ad. Under the motto "We have a weakness for your strengths," the Bertelsmann subsidiary is consciously breaking new ground and is addressing a very special group of applicants in keeping with today's dyslexia and dyscalculia day. "Particularly in the area of telephone processing, we have many options for eliminating reading, spelling and arithmetic weaknesses with a variety of tools and enabling those affected to fully enter our company," explains Michael Wagner, Director of Operations and Diversity Officer at Arvato Financial Solutions.
The job advertisement was created in cooperation with the Bundesverband Legasthenie & Dyskalkulie e.V. (Federal Association for Dyslexia & Dyscalculia). (BVL), which has been committed to improving the living and working conditions of those affected for more than 45 years. "We are pleased that Arvato Financial Solutions is particularly committed to employees with dyslexia and dyscalculia and has developed a special job advertisement for this purpose on the occasion of the action day on 30 September 2019," says BVL Federal Chairwoman Tanja Scherle.