Aqount - the platform for your accounting and payment processing
Finance processes from checkout to transfer to debt collection agency
Expertise & competence in accounting
Processing of accounts receivable management activities for digital and analogue business models based on the market-leading accounting system by SAP (FI-CA).
Designed as a shared service platform
Our clients benefit from continuous platform developments.
Best-in-class technology
With SAP S/4 Hana we use latest and high-performant technology – particularly suitable for high-volume business models in the B2C and B2B segment.
"Golden Client" concept
Our "Golden Client" concept enables our customers to optimize all processes individually. This includes pre-defined processes and interfaces like pre-configured charts of accounts, booking logic or optimized workflows for payment methods, as well as further platform developments. We will be glad to make individual expansions available to you.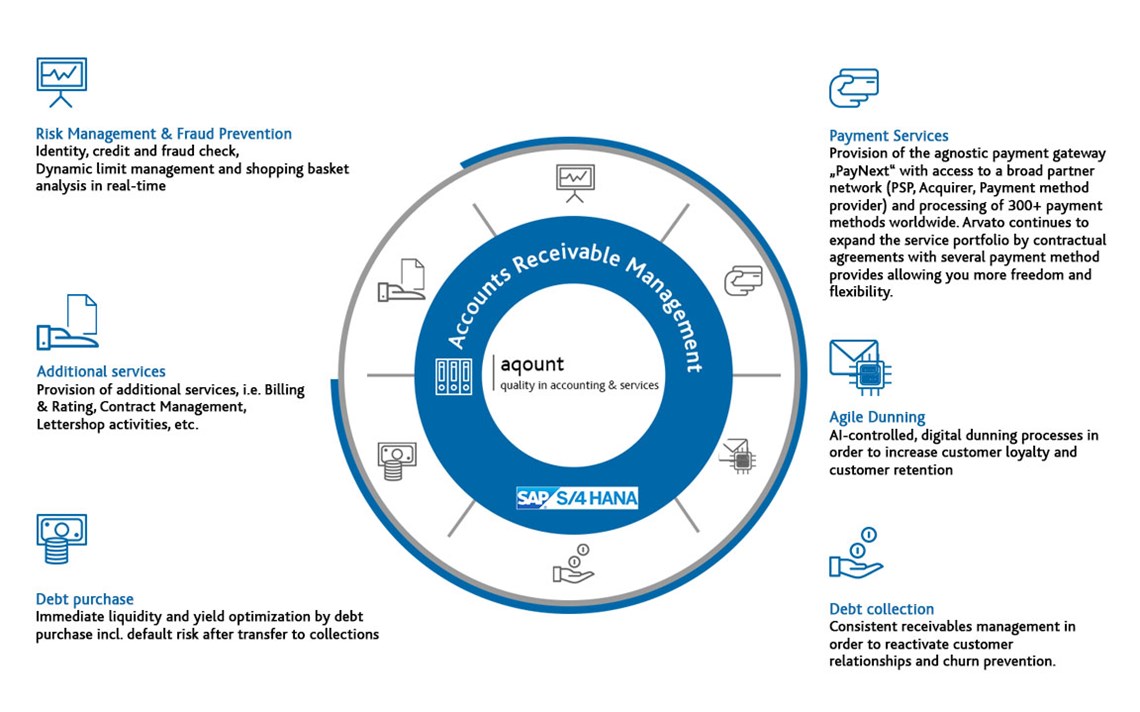 Aqount adapts to your individual business requirements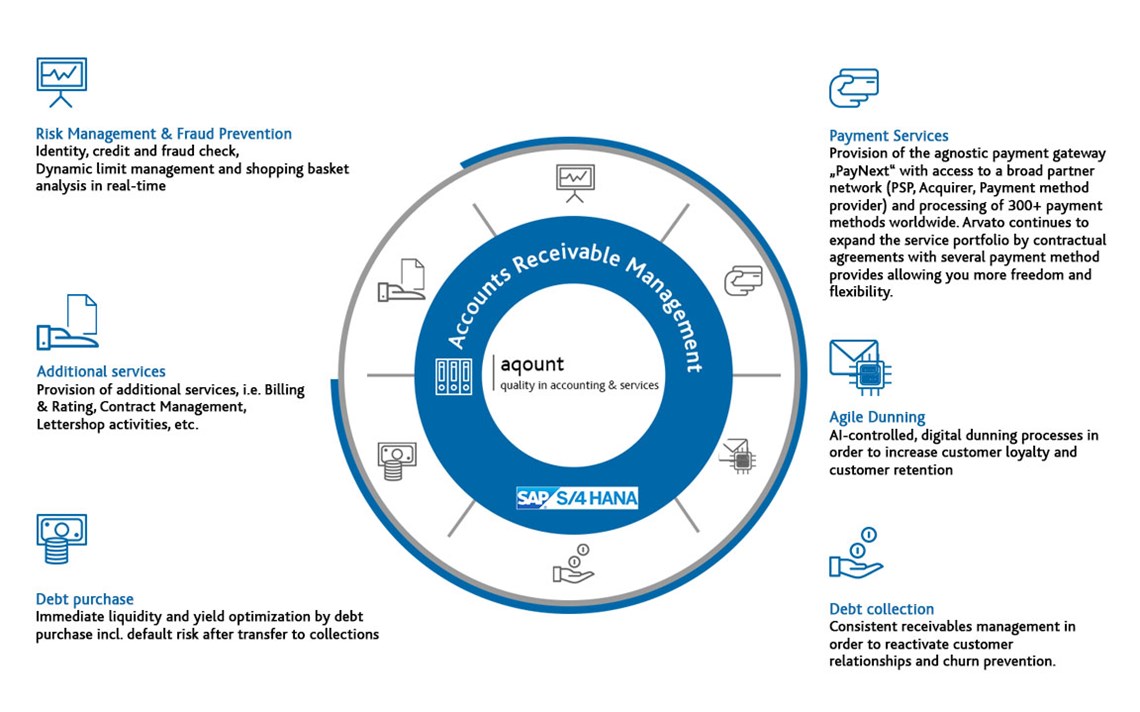 With Aqount we offer an individually adaptable accounting platform that is expandable by further modules out of our product and service portfolio, so that you can set up the accounting system completely according to your needs. As a user, you can expand our solution using our risk and fraud management, our factoring and payment services and our receivables management.
Transparent, flexible and service-oriented – reporting based on cutting edge technology
myAqount – your direct connection to your customers
Optimize your customer communication through unlimited access to debtor information with myAqount, the service center tool for your 1st level support.
The service center tool based on SAP Fiori serves as a user interface to the SAP backend and enables you to interact directly with Arvato. Your
first level support is able to handle customer requests immediately and in real-time. For this purpose, myAqount supports you with the following functionalities:
Insight to debtor information including open and closed items
Master data changes (address and bank data)
Creation of goodwill credits
Creation and deletion of dunning blocks
Access to invoice and dunning documents
Your benefits

International use
The platform can be used on a global scale and enables you to easily integrate new markets and payment methods with reduced time-to-market
Reliable
Benefit from high quality standards confirmed by PCI and ISAE 3402 certifications, as well as state-of the art SAP S/4 Hana technology

Simple
We provide you with an easy access to Aqount and the option to use integrated services by Arvato Financial Solutions.

Flexible
You receive a standardized product with additional services and high adaptability to your individual business development.

Client Focus
We discreetly act in the background! PayPage, dunning procedures and backend processes are delivered in your corporate design

Transparent
Benefit from comprehensive reporting functionalities provided by an integrated self-service reporting tool, as well as insight into debtor account information via our 1st level service center tool "myAqount".