AGILE FINANCIAL PROCESSES FOR YOUR ONLINE BUSINESS
AQOUNT Order-to-Cash Operating System
What's the AQOUNT Order-to-Cash Operating System?
As an order-to-cash operating system, AQOUNT O2C OS supports companies in transforming fast-growing businesses faster and in implementing new business models. Along with automated accounting, the order-to-cash operating system handles all transactions - from the receipt of an order to payment.

The key benefit behind this one-stop-shop solution? Anyone who wants to get started with new business models will benefit from predefined bundles that combine the necessary services and providers. Furthermore, existing providers can easily be connected to AQOUNT O2C OS via interfaces. AQOUNT O2C OS also has already interfaces to a many providers, so that technical integration is reduced to a minimum level for our customers.
So what exactly can the AQOUNT Order-to-Cash Operating System do?
AQOUNT O2C OS is handling complex processes in your order-to-cash chain in an almost fully automated way. Thanks to a fast connection, we can support you facing the following challenges:
Develop a new business model
Webshop? Marketplace? Subscription? AQOUNT O2C OS enables you to combine them in any way you like.
Speed up time-to-market
We have already pre-configured the most relevant services for different business models and industries in bundles, so that we can quickly turn your business model into a monetized business.
Scale your business
Even large revenue jumps can be easily handled through a high level of automation.
International expansion
The feature set of AQOUNT O2C OS can quickly be rolled out globally.
Maximize the end customer experience
Local payment methods allow you to meet the needs of your customers
Reduce complexity
Since AQOUNT O2C OS is able to centralize and standardize all processes in terms of technology and contracts, you will be able to control them easily while saving time and costs.
Be up-to-date
Our Golden Client approach allows you to easily take advantage of features that we develop and roll out for customers as part of our strategic product development.
Which services offers AQOUNT O2C OS?
AQOUNT O2C OS's core element is our accounts receivable management based on SAP S/4 HANA technology. We use this as a solid foundation to provide you with the services you need for an efficient and successful order-to-cash process. You have a variety of risk providers, acquirers, payment service providers and more than 100 payment methods to choose from.
The aim is to provide you all the technology and services you need. For more success and happier end customers.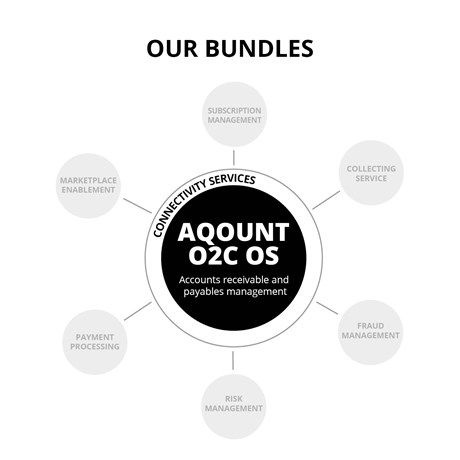 So let's take a closer look at the most relevant services for your order-to-cash process, what optimization potential they have and how you can choose the best ones.
Risk Management

Fraud Management

Payment Processing

Collecting Service

Marketplace Enablement
How can I get the most out of AQOUNT O2C OS?
Through our years of experience with international customers, we offer you Ready-to-Start bundles that contain the right services and providers for your specific business model. This bundles can be used especially, but not only, for the Mobility, Fashion, Cosmetics, Healthcare, DIY and Digital Media industries.
Order-to-Cash instead of Order-to-Crash
One-Stop-Shop

One-Stop-Shop
Multiple providers bundled under our contract
Fast integration of AQOUNT O2C OS

Fast integration of AQOUNT O2C OS
Plus transparent documentation on the onboarding portal
Personal contact

Personal contact
Industry expertise & 30 years of experience
Real-Time transparency

Real-Time transparency
Microsoft PowerBI-based reporting portal
AQOUNT O2C OS Self Service Portal

AQOUNT O2C OS Self Service Portal
Insight into open accounts, placing dunning blocks, etc.
Release Notes as a newsletter

Release Notes as a newsletter
Update on new features and providers
We stand by your side with help and advice when it comes to tailoring these services to your targets within the order-to-cash process. We will guide you through the digital transformation with great confidence. AQOUNT O2C OS is undergoing continuous improvement: we always have the latest technology, are expanding our provider network all the time and provide you with interfaces to the best in the industry. Even if you don't know yet which business model you would like to use for future success: AQOUNT O2C OS is already providing you with the best services.
You can rely on it: